Over the next few months we will be running a massacre campaign covering the events of the dropsite massacre from book 2 of the horus heresy from forgeworld. This will take the form of a series of linked games or each phase ending in a legendary mission. these are custom missions, not from the normal 40k rule book
The first battle of our massacre campaign saw the imperial fists trying to breach the defences of the sons of horus playing a mision called deady ground. this had 3 objectives that we scored on each round, plus setup in opposite edges. it also used compulsory reserves for half your force.
Trying to keep thing thematic, i decided to take a fortification -someting we have never played with before… And we played without lords of war… We will introduce them as the games continue.
I won the initiative, and set up first. The centre of my line was my bastion with 20 tac marines inside and lazcannons/ master of signals on the battlements. Spartan on the right venetor on the left. Ollie set up just out of range of my heavy weapon squad.
Traitor turn 1 – move foreward to secure the first objective with my spartan and move my venator up. Two lucky lazcannon shots from my spartan knock 2 hull points off the loyalits land raider. My compulsory reserves come on – i rush my jetbikes and rhino foreward – tucking my land raider in behind my spartan for cover.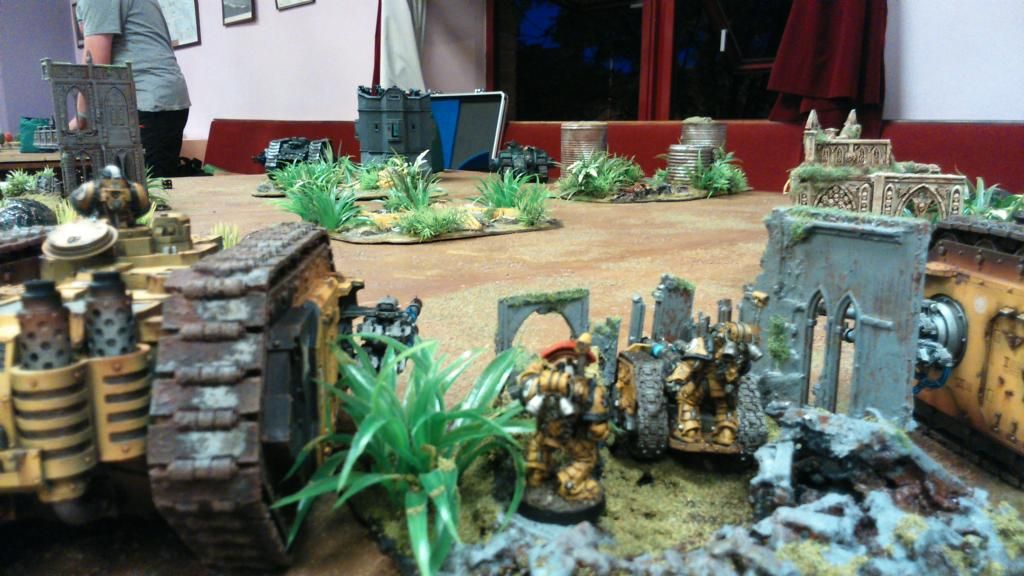 Loyalist turn 1. the loyalists bring everythiong on except thier contemptorr talon and move forward to engage at long range, but olly has a really bad round of dice rolls. i make a couple of cover saves on the venator… my only casualties are 3 of the jetbikes to heavy fire from the spartan.
Traitor turn 2. I score 1 point. I rush my support squad along the righ flank, while pushing the spartan and land raider toward the centre objective. I blow up the loyalist predator with my venator, cause 1 casualty on the lazer destroyer and get a couple of nice shots on the mortis contemptor, but he makes his invulnerable saves. another nice coup[le of shots blow up the land raider, and the breacher sqaud disembark, but crucially fail thier pinning test – they end up about half an inch away from scoring on thier nearest objective. I turbo boost my jetbikes to the centre to avoid being hit by the spartanagain. My heavy support squad are still out of range – thier only target is the rhino which the immobilize.
Loyalist turn 2.Unable to score they push foreward on the right flank, but due to some poor penetration rolls, it takes fire from the spartan and the lazer destroyer to knock out my rhino, killing 1 of the support squad inside.. the spartan has disembarked its terminatiors – i disembark my plasmas to the rear to give them a long charge, which they fail. The whirlwind fires at my venator, but fails to penetrate – phew! The stranded tac squad get out and push foreward.
Traitor turn 3. I score 1 point. My plasma squad premare to unleash hell on the terminators.. out of 8 shots only 3 hits and 1 wound which is saved. then to add insult to injury one of mine dies from a gets hot! I finally knock out the lazer destoyer and carry on pushing forward to get on to the second objective… meanwhile my large tac squad comes out of the bastion and runs onto the first objective. My master of signals gets a single bombardment and kills a few tac marines…
Loyalist turn 3. Olly scores 1 point…. but he still fails a roll to get his contemptors on. His teminators charge my plasma squad and wipe them out and consolidate towards the centre. His whirlwind zeroes in on my tac squad and does considerable damage – they go to ground and hold on with a good morale test. His breacher squad charges my speeder and cracks it to death… luckilly he consolidated 5 inches, or he would have been off the objective.
Traitor turn 4. I score 2. I try to slow down his teminator squad Four good lazcannon hits – he makes every invulnerable save – damn those storm shields! Im sitting on the objective with my spartan, so i push forward with my landraider – to hopefully charge polox and his terminators with both my terminators and my veteran squad next turn. I rush my venator forward out of cover – hoping to knock out the spartan – but i only manage 2 glances. I charge his mortis contemptor with my 3 remaining jetbikes, but due to some poor dice rolls fail to penetrate even with melta bombs… what you gonna do?
Loyalist turn 4. Olly scores 1. The contemptor talon finally comes on. ollie is shaking his head.. to little to late he thinks…. He half heartedly takes a lazcannon shot at my spartan.. a 6… folowed by another 6 …boom. Not only do i loose a terminator, but the unit fail thier pinning and disembark. I decide to keep them away from theenemy terminators and disembark them near. meanwhile my tac squad are again bombarded by the whirlwind but go to ground and hold on in there. My venator is knocked out and my speeder is assaulted and knocked out by the breacher squad… olly is now off his objective, but luckily gets a 6 to consolidate.
Traitor turn 5. I score 2 again My terminators are stuck out in the open – i try to buy them some time by attacking the warlord and his unit. I disembark my veterans and manage to kill 2 terminators with heavy flamer and bolt pistol shots, but he makes every rending save i put on him… i charge and manage to kill another 3 before y veterans are wiped out… a heroic death. My jetbike squad only cause 1 glance with melta bombs on the mortis contemptor, and he rolls a 6. That sonofabitch will not die.
Loyalist turn 5. Ollie scores 1. Ollie charges my land raider with his terminators, since hes too far away to get my terminator squad. and knocks it out, he drops virtually everything else on my teminators tryng to break the squad and kill my praetor – despite a couple of kills and a couple of failed look out sirs my terminators hold on in there.
I win 6-4 on holding objectives, my warlord hanging on by 1 wound. To be fair another round would have killed me, but he mission was 5 rounds.. and i tried to play to that. A great first game
Join the forum discussion on this post